For the past days/week, i worked on and off on the Warrior, first to try and recreate some sort of halberd, and second to try and nurgle-ize them. It been an uphill battle, and i'm stil not sure i'm winning this one...
My first goal when i started this army, was to make something new, something different, something with quite alot of sculpting/modification. In 40k, you pick Ork, and do just about anything you want. In fantasy, it's the same thing with nurgle.
So i tried a few things, trying to find just how much work i want to do on each warrior, and how good i can make it look.
So far, i created 4 warriors, and alot more question....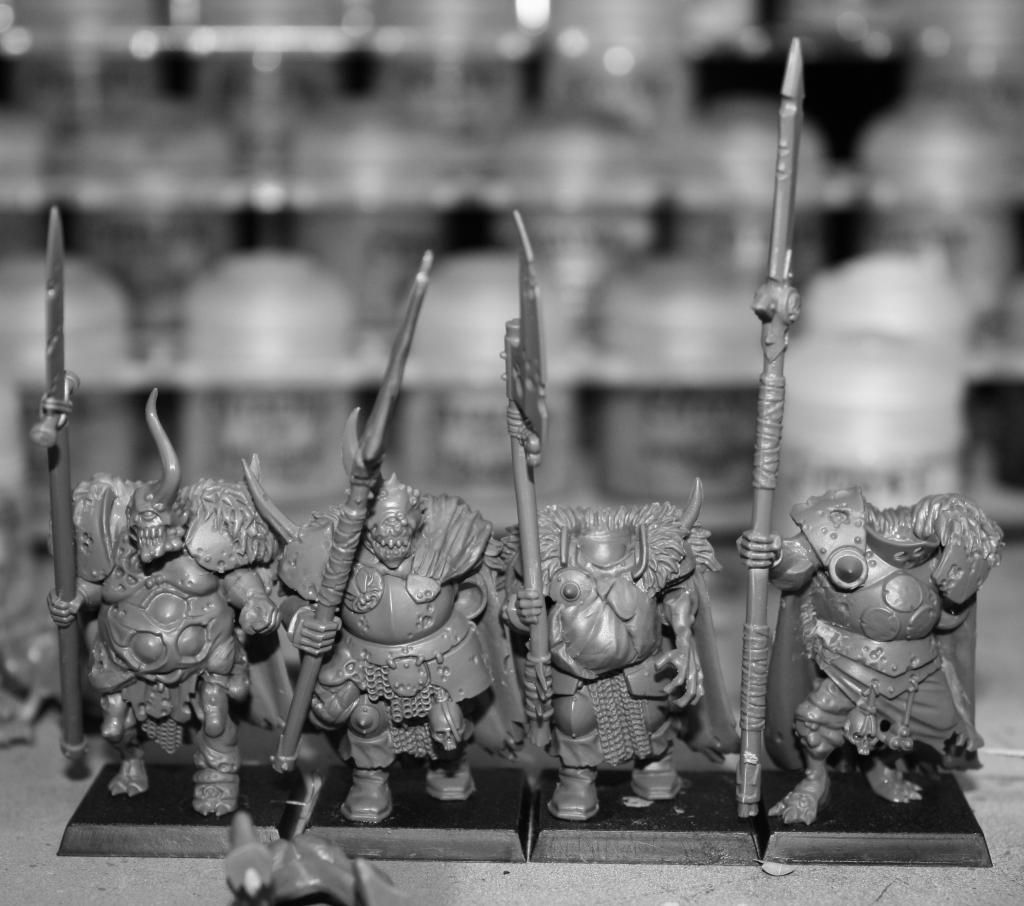 3 of them are created using blightking torso and shoulder pads, while another is done using greenstuff (to make it like the armor popped out, leaving nurgle stuff to come out). I'm seriously considering going the WoC/Plaguebearers route instead, since their size are much more similar, and i think it would look better.
2 of their weapon are done using Cavalry lance, one is a banner pole with a blightking sword on top and the last one is done with Orghotts weapon. I think that all 3 beside Orghotts' look too much like spears and not enough like halberd. What could i do to change that? Switch to an axe head? shorten the pole?
I need to make 32 of them, and i want them to be 32 different one, b ut will it look good if they are all different like that? with different weapon, size, head (some will be WoC, some will be Plaguebearers), etc?
As a bonus, here's 2 more WiP in very early stages...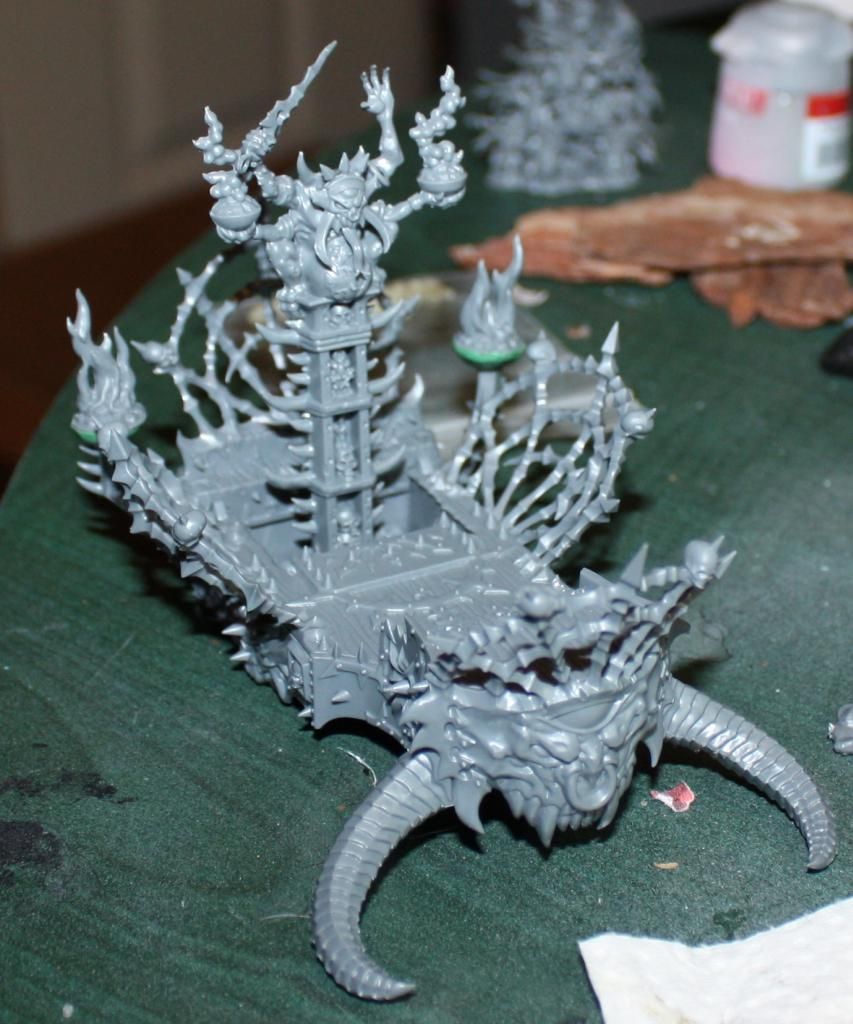 My warshrine. For now its sitting on the floor, because i have no clue what to build to carry it... it's getting fairly annoying actually.
The modification are minimal ;
- replaced the statues' arms for something plaguebearers. It makes it slightly less generic, and a bit more Nurgle. I considered removing the totem completely, but it felt empty...
- removed the flame thingy. It had sign of all gods. Since my shrine is nurgle, it didnt make sense at all.
- removed the beasts hand on the front horn, since i want something different to hold the warshrine. I considered nurgling, but i have no clue how to make it work. I'm now considering making it float, with a few plaguebearers on board counting as crew members/monsters...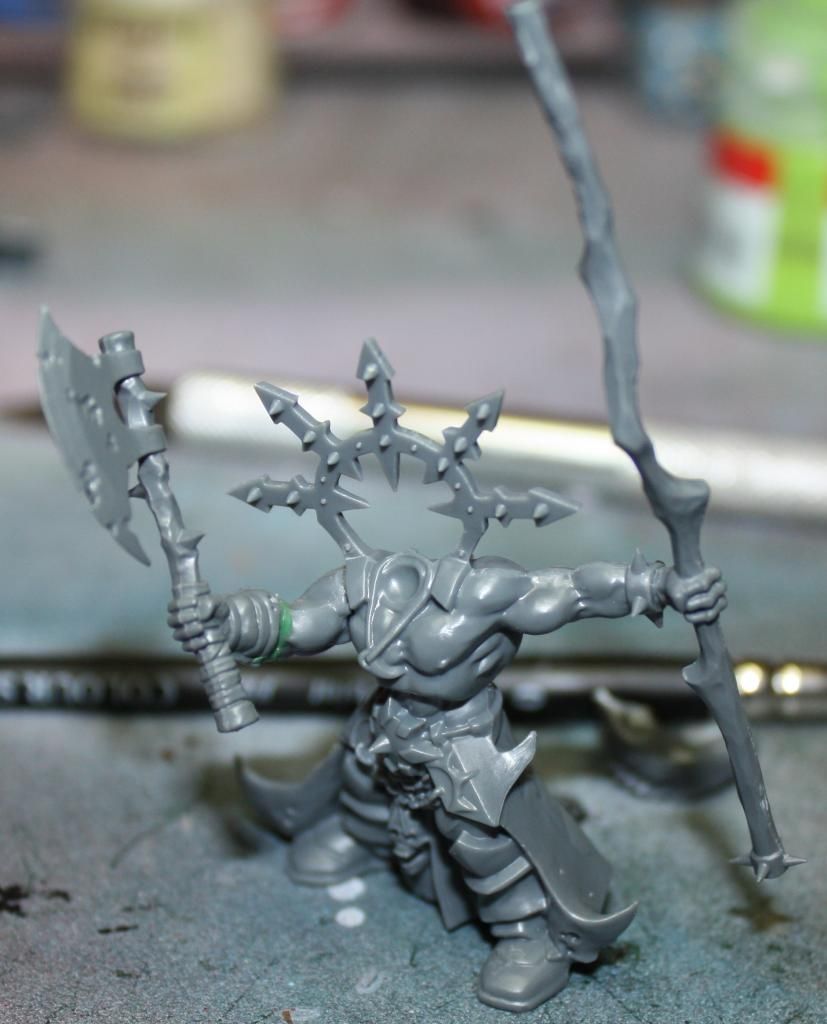 The shrine keeper. I switched his hands for a Plaguebearers banner and a Blightkings weapon. For now, i'm still unsure what i'll do with him. He might become a WoC Banner bearers, or maybe my BSB. He's obviously not finished, since i want to make him much more nurgle, but since his role is still unknown, its hard to decide how to approach this model...
So many question, so little answers...