My second Ironblaster is finally finished, and picture were taken.
I still need to do a base for him, and do some fine details i forgot (like his face's horns) but there's no rush (well, ok, there's one.... but i'm not rushed).
First, a picture of the finished beast.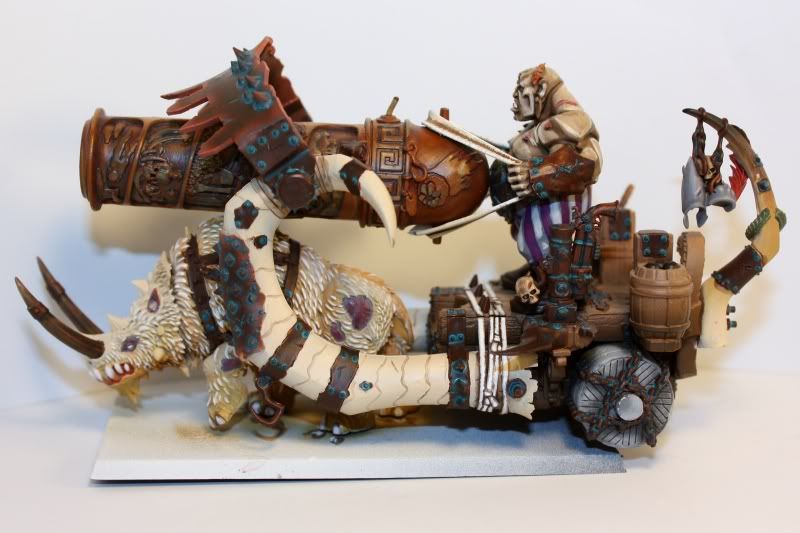 When you compare with my first one, you notice alot of similarities...
So yes, he's finished. I'm pretty pleased with what i accomplished. I think i could have worked a bit more with the big horn on each side (seeing alot of people using feathering, which look ace on those), but i dunno. A very light color like this works well too i think...
Few things i'm particulary pleased with the two models ;
1- The big trophy/horn on the back of the newly painted Ironblaster. Its actually the first true success i had with the airbrush. It goes from Vallejo Sand (kinda like GW's Bleached Bones) up to Chaos Black.
2- the "Maw" on the top of the two ironblaster (i know, one wasnt glued on when i took the picture). I actually managed to control my airbrush to make a semi-smooth transition between the two color.
3- The multi-colored rust on their bracer. Its kinda hard to see on the picture, but the many different shade on its bracer are not light effect. I actually used many different color under the last coat to bring all kind of crazy effect. I like it.
4- Scars. Its something i did out of the blue, and i really, REALLY, like its effect. I know i'll never win any award with that kind of painting, its very grainy, and doesnt really look good up close, but the effect is exactly what i wanted.
Talking about up close, here's a close-up of one of my rider...