Pretty busy week as i was on a business trip for 2 days, a game on friday, and father's day, but i still managed to get some things done.
First, a little something for all the dad around.
First, for the power weapon, i didnt want to go all glowy (like my Festus's bottles), and i really liked how everyone was painting them with some sort of airbrush effect, so i decided to give it a go myself, and see how it look. I kept it simple (out of lazyness? i don't know), but it might be too simple for me... i'll see.
Sneaky bastard ; insta kill, but not glowing!
From black to red. Pretty simple. One thing i considered is getting once side of the blade from black to red, and the other the opposite, but i wasnt sure i was capable of doing a very clean cut between the two, so instead i did this ;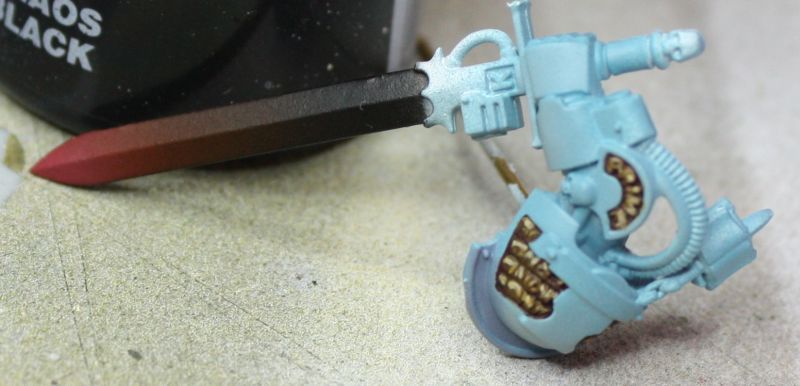 I'll stab you with my big red pointy thing!
I'm not sure, i'm just not sure. They'll at the very least all start like that, so i might finish them all like that and see afterward how it looks...
Another thing i did was work on the purity seals on both shoulderplate and body armor.
Feels like i been painting those forever!
So far, i really, really like the look. Still unsure if i want to paint every details. Purity seals were a big test, trying something ; I shaded and highlighted, then painted a white over most of it. It definately added a new depth to the shade, but overall, it look botched imho.....
Hard to belive this took me a few hours....