Today's goal was to basecoat all metal on my 10 witches. Easy enough some would say, but crown, panties and bra (yes, metal armor/underwear!) and their little sword, prove to be much more challenge than it looks. In the end, after 2 hours, i finished my goal for the night, and decided to add another basecoat ; the cloth.
So today wasn't just about staying on track, but actually taking a lead over my schedule.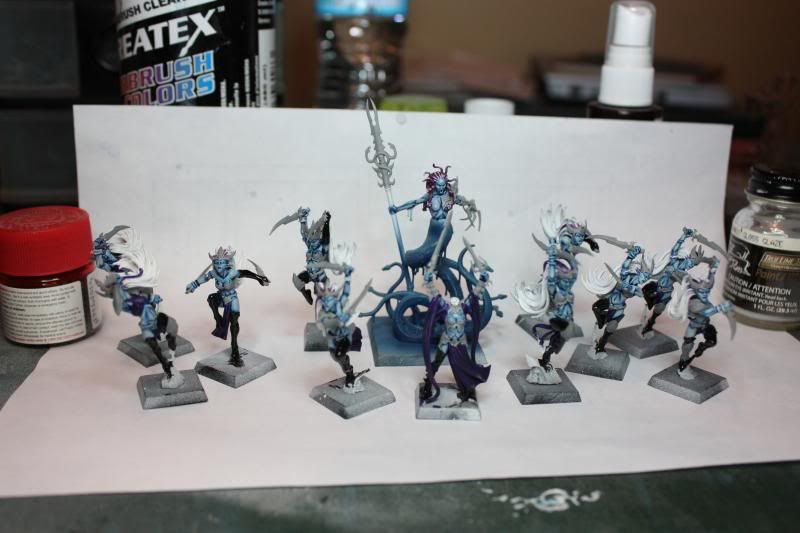 For tonight, this will be the only photo. What you can see on the pictures ;
Medusa's shoulder, staff and "mechanical" arm are basecoated. The staff is gonna be interesting to paint, hadn't notice the amount of detail that thing has.
Witches metal is basecoated. Took two pass to get an even color, but i'm pretty happy with it. It's a small task, but still has to be done correctly.
Witches Cloth is basecoated. I'm gonna be shading it and lightly highlighting it over the weekend to have it finished by sunday.
Hellebron's cloth is basecoated, but there's so much of it, i'm not sure how much i want it purple. Might either do some freehand (ACK!) in white, or find another way to break the color a bit.
Tomorrow ; Metal again. My goal would be to paint everything that isnt a weapon, and hopefully finish the cloth. If i can achieve that, sunday will be a walk in the park, and i'll be able to use my day off monday to start a new batch of base and finish the current ones.